In dit artikel lees je hoe het leven is (geweest) aan de Dakhla lagune tijdens de Covid-19 pandemie van het voorjaar van 2020: How was Dakhla during lockdown?!
This article will be in English since the people i've talked to – my friends, colleagues and acquaintances – are from all over the world. Most of them are still in Dakhla by the time this article is published.
Dakhla during Lockdown
On the 14th of March 2020 the government of Morocco announced that all flights -in and out- were banned. We had a few clients left in Dakhla, which were able to get on the evacuation flights. Then it became quiet. I was texting the guys back at the Attitude hotel, to see if they were going to their country of origin; to their families and friends. But most of them, like Andy, had no intentions on doing so.
Andy from the Windsurf center tells me: "At first we were a group of 13 foreigners in total of which 5 clients. Some people came from other hotels which closed their doors (like Zenith) and they didn't really have a place to go to! After about 1.5 month some of them managed to leave on evacuation flights.
All in all we were a fun crew all the time.  Actually, we even grew really close.When there were only 5 clients. We had like 3 parties per week…. bonfire nights, even live DJ' sets from one of the clients".
That sounds very different from what I expected.
On the other hand, Dakhla (Attitude) is so far away from any crowded area or city that it also doesn't really seem weird hearing about this.
"At first it felt like a dream. This was once everyone came to the conclusion that we were in the best place in the world during all this madness, we really started to have this amazing time".
Of course -at a certain point, people really start looking forward to go home to their friends / families and maybe even to go back to work! So I asked Andy until which point it was all 'fun and games' and he replied:
"Yeah, that's right. It was until people wanted or had to leave eventually. Then the vibe changed a bit towards a 'when will this be over…' Some people started to feel the financial pressure, others had to leave because of work and others were annoyed then by  the (what seemed non-logical) rules they had to obey"
The rules in Dakhla during Lockdown
I am curious to find out, if the people who were still at the epic kitespot, the Dakhla Lagune, were able to ride. Whilst Holland had an 'intelligent lock-down'  Morocco -from what we could see on tv and the internet,  was 100% locked.
Larbi, my local friend who's working (freelance) for the Dakhla Attitude surf-center as a certified kitesurfing teacher, tells me that in Dakhla during lockdown everybody had to wear masks and that everybody had to keep at least 1 meter distance to one another. Also, gatherings for over 40pax were forbidden.
(That doesn't seem too much of a total lock-down if you ask me, considering the rules we had to obey in Holland were pretty much the same).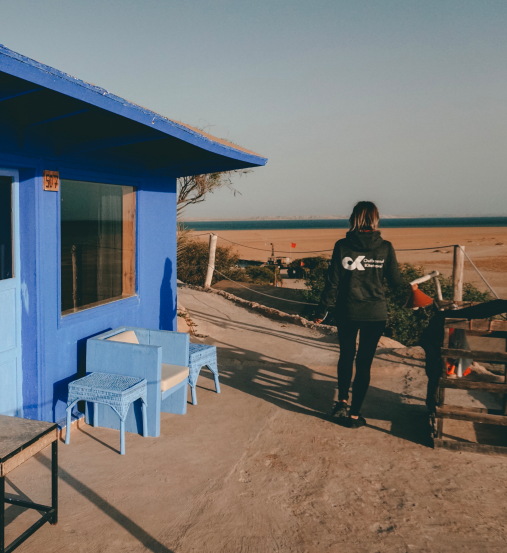 On June 5th 2020 Larbi also told me "now in Dakhla since one week we can go more out for activities but it remains important using a mask and keeping 1 meter distance to other people.
Morocco is preparing to receive clients from the 10th of June – but the government is going to announce the exact date of opening the borders".
I asked Andy if they were still able to surf.
kitesurfing during the dakhla lockdown
Andy: "The rules were sometimes by the authorities, sometimes by the hotel but it changed quite a lot"
Example?
"Well, first we were not supposed to ride at all for about 5 days. And we couldn't leave the hotel once confinement started. Then we were supposed not to ride before 5pm.
But the other hotels – Dakhla Club for example – weren't giving a fck. Their staff was riding all the time. After that it kept changing, from rules to ride in terms of spot and time".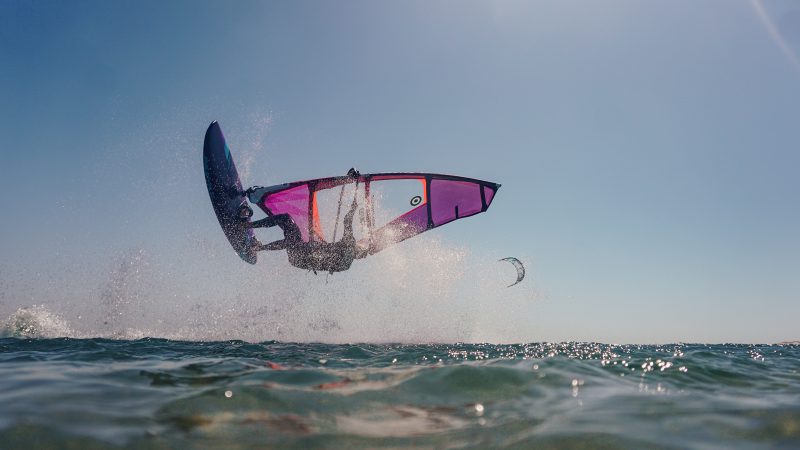 Preparation for re-opening after the lockdown in Dakhla
As you can imagine, the hotels are highly looking forward to receive clients again (to say the least)! So also in Dakha during lockdown -which hopefully ends June 10th 2020- preparations are taken by our partner hotels at the lagune and at the wave spot.
Andy wrote me that there is "Plexiglas at the receptions, little plexiglas walls on the bar. Distance markers on the floor, at the bar, receptions, hand sanitizer everywhere…" that – in our opinion, sounds good and hopeful and we can't wait to get back to Dakhla Attitude to experience and see this with our own eyes.
---
Could somebody take us to Dakhla please?! Let's ride in our shorty wetsuit on that flat lagune….
Speaking about this lagune! We recently made a "KiteSpotCast" about the lagune in Dutch, which you can find here:
Spotify – https://spoti.fi/2Mjqf38
ApplePodcast – https://apple.co/2XXtp1K
YouTube – https://bit.ly/2zRyjoJ
---
registered Corona cases in dakhla
In addition to the measurements taken in the hotels to stop spreading the virus, Larbi tells me "the measurements to prevent the spreading of the virus was very serious as Morocco was one of first countries who lock-down and banned the flights in and out. In Dakhla we had the same measurements as the rest of Morocco; like you were not allowed to go out for fun and after 18:00 you were not allowed to be out at all. You were imposed to use a mask, keeping 1 meter distance at least with the people . And because of all this the result is Morocco has 'just' 600 registered cases in total and 0 cases in Dakhla".
Plan your trip to Dakhla
Do you want to plan your trip to Dakhla? Then you can let us know your specific question and we'll get in touch!
We are happy to answer all your questions and arrange your booking.