Ook dit "corona-artikel" is in het Engels, omdat Dil – onze vriend en eigenaar van KSL & VAYU – onze vragen in het Engels beantwoord heeft. Wanneer je vragen hebt over de situatie in Sri Lanka, raadpleeg Nederland Wereldwijd of neem contact met ons op.
What are the "kitesurfingcamp rules" in Sri Lanka?
"There are no rules in forced as such for kitesurfing but practical health, safety and personal hygiene practices we have put into place for our operations."
This means that they took the lead and initiative even though the government didn't force them to. Meaning they will kite -no doubt about that(!), but they will do so with care (e.g. social distancing, (hands) cleaning and desinfection).
"Like in every other place in the world, tourist got stuck in Sri Lanka too. So, there were clients in our camps during lockdown"
Dil tells me: "Yes, we had a few families with kids who decided to spend lockdown with us. It was actually a great time". Now most tourists left, but soon they'll be welcome again: Sri Lanka will open their doors for tourists again in august 2020!. I've asked about the things done in this country for toursits to be safe:
Any measurements to prevent spreading the virus right now in Sri Lanka Kitesurfcamps in times of Corona?
"We practiced physical distancing and sanitation. All staff too. Having spent 2 months with the same persons, we did not wear masks inside the camp premises. Rather it was mandatory when leaving the camp and going to home etc. We worked with a skeletal staff so minimized risk".
That sounds good, and very 'Western': something a lot of tourists will like…. But i'm also curious:
how does Dil and his staff prepare to receive clients again in the Sri Lankan kitesurfcamps in times of Corona? Dil replies: "We are following with the World Tourism Guidelines and recommendations on operating post COVID period".
Dil did a Webinar w/ Sri Lanka Tourism Alliance where you can hear more about
the camps, COVID-19 and Sri Lanka: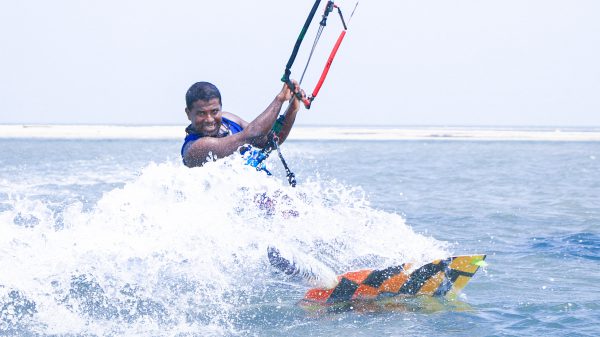 KSL – Kalpitya (the whole story)
Want to learn more about KSL – our fav getaway for our stay for kitesurfing in Sri Lanka?
Watch the NEW video Dil launched in June 2020 here!