Wake Up Stoked
I met Miriam in may 2019 on the Ibiza Kitesurf Cruise. This kitegirl is the owner and founder of WakeUpStoked. It's her (personal) kitesurf blog. If i'd say it's a "nice kite-blog" it would be an understatement.
Because Wake Up Stoked is more than a blog: it's advice, really great spot guides and finally all about sharing the stoke and passion for kitesufing. 
I asked her a few questions about Wake Up Stoked, and mainly about her stoke and way of life and doing things. I'd like to share it with the visitors of the Outbound Kitetravel travel-agency website, because I think it's inspiring to see how other kitesurfers travel, work and shred.
Check out the inspiring kitegirls interview #1 with Miriam from Wake Up Stoked here!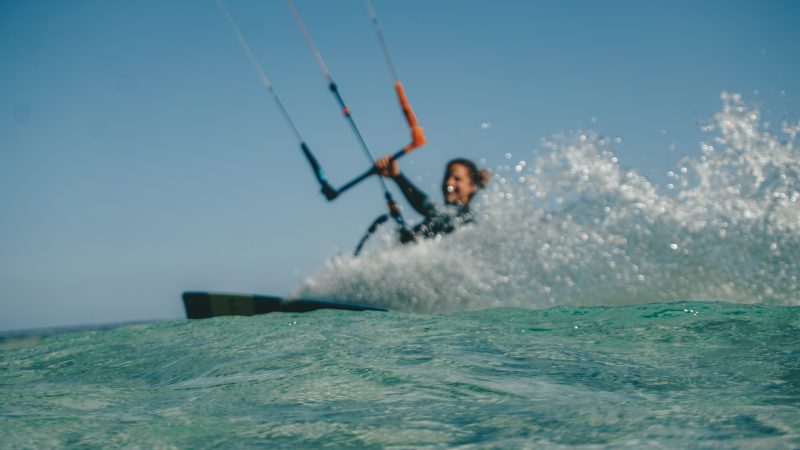 At what time do you usually wake up (stoked)?
Never before 7 am.. or sometimes 11 am like on the boat  hihi…  Just kidding, it depends what you wake up to. If I know I'm in for an early morning session I'd do pretty much anything and wake up any time of the day for it.
What is your favorite place to wake up stoked?
There are two and they couldn't be more different but start with the same letter 😉  Cape Town and Cabarete (DR). They are just two places that have everything a long-time-traveler/digital nomad/kitesurfer would need: good wind, good vibes, the ocean in front of your door, sunshine, nice community of expats/digital nomad, tons of no-wind-activities like yoga etc and healthy food places.
But to be more general, as the places I wake up stoked to change: the idea behind Wake Up Stoked was originally to create a life that I would wake up completely excited to, with a good feeling, excitement to start the day. When I was working employed and was landlocked in an agency in Munich, I would be the grumpiest person ever. Rather than looking forward to my day I just wanted it to end and the weekend or next kite vacation to start.
So the name Wake Up Stoked was kind of a promise or life motto I wanted to give/make for myself and create a life that makes me wake up excited – whatever that might mean in any stage of my life.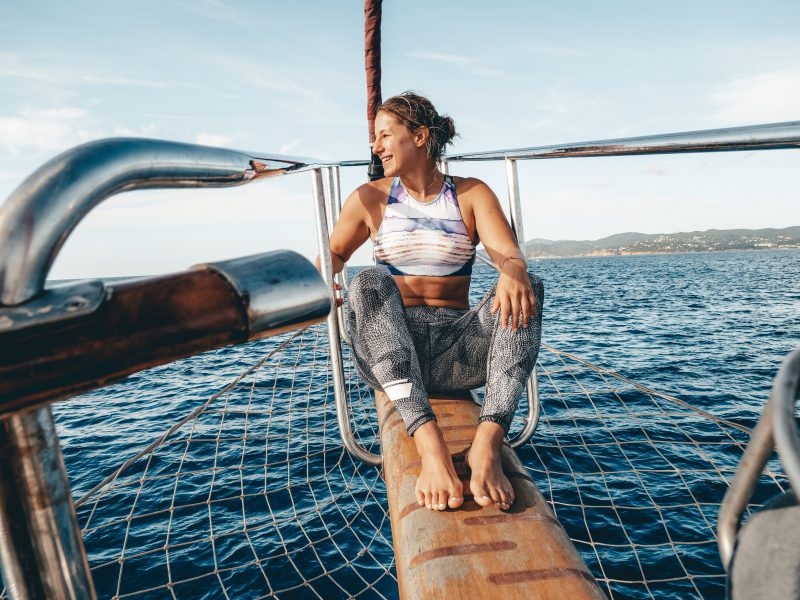 What is your morning routine, to get energized for a day of kitesurfing?
Since I travel so much and have very little routine throughout my day whenever the unexpected hits me in work and personal life (and it does almost every day 😉 ) I have a pretty set up morning routine. I started with just one thing and it expanded more and more over the last years, which is: waking up, meditating 10 minutes while still in bed (I can recommend the App Calm and starting with just 3 minutes daily if you want to get started), drink a green tea, workout. Since I am usually at spots where the wind starts in the afternoon and I have a full day of work in front of the laptop ahead, I can't go anywhere without a good sweat in the morning, no matter if it's a HIIT training or a yoga session. I also looove green juices as the first "meal" of my day.
What does a perfect day of kitesurfing and working look like for you?
Waking up early without an alarm clock (which to be honest, happens – not so often as my day is packed with so many things that I want to experience), getting a nice morning workout, being super productive without any distractions (happens rarely 😉 ), go kite with my boyfriend or friends, cook a nice dinner together and watch the sunset, reminisce about life and our journeys, all the good things that have already happened and all the amazing things that are still going to happen.

What are your goals for the future?
Continuing the life I'm living while growing and learning every day, making my side business which Wake Up Stoked is more of a main business. Inspiring more people by products and services I am creating behind the scenes to go for the life of their dreams. We will give our first Wake Up Stoked camp from June 22-29, 2019 with kite coaching, daily yoga, workshops around healthy living etc together with my brother. I'm super stoked to share my passion for kitesurfing and this lifestyle with other people and will just take it from there.
How can we stay updated about all your plans and adventures?
I don't really make plans haha as all plans usually get thrown around. I'm most active on Instagram and give quite a lot of updates in my Instagram Stories.
—
Images: https://actionedit.de/ and https://wakeupstoked.com/
 An active human being like Miriam and you experience a no-wind day or two?
Go wakeboarding!
https://www.vividalifestyle.com/blog-content/best-wakeboarding-places